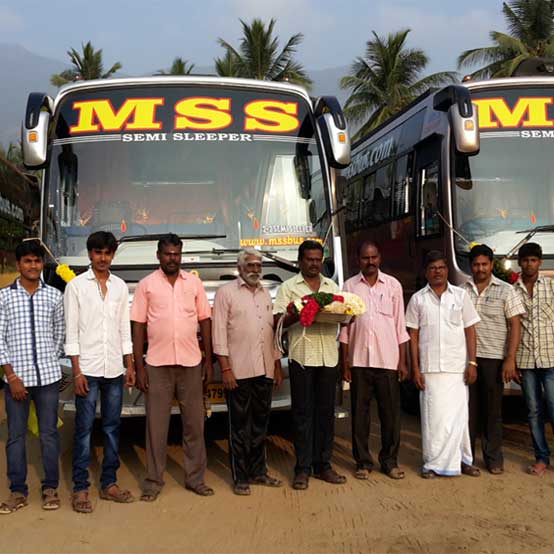 Mettur
Super Services
24 years in transport industry, started with 2 buses from Chennai to Mettur now reached 40 buses operating to multiple destinations from Chennaihaving served more than 20 million passengers and counting, our packages and parcel services handled transit of more than 400 tonnes and are working sincerely to exceed our past achievements.
Since 1993, Mettur Super Services is a trusted name among the passengers who wanted a safe journey, comfortable seating and excellent service. Our commitment to our passengers had earned trust and faith from our beloved customers, who started associating with us as customers have now become our extended family.
We have grown to become one of the leading bus operators with an expanding fleet of buses in the newest routes in and around the nearby states and various places in South India.
Our board of directors have vast and hands on experience in transport industry which is close to 60 years and they have been the pioneers in transport domain.
After having realized the need for regular bus services between major towns and cities, MSS constantly works on expanding the routes so as to ensure the convenience of passengers boarding from even rural areas and upcoming cities.
We have been serving our passengers in a way that they get an option to get down at the most closer proximity of their opted stop even though we have no in-between stops there, which makes them to smile and their happiness is our goal.
We would be delighted to hear from our clients and to serve them better, so we introduced a feedback system that ensured our services being improved and we were able to cater the needs of our clients' right way.
Our Buses have been supported with a live tracker, so once our clients' receive our tickets, they can track the movement of our buses and can reach their boarding point hassle-free, relaxed mind to have a pleasant journey.
Our Parcel and Cargo services ensure the clients' packages are transported with utmost care and with due concern to protect, making the cargo handling operations a tension free process for our valued clients', who always trust us and rely upon us for their needs.
Travel with us safely to reach your destined destination, while we shall travel with you to excel in our services and extended routes and yes, there are miles to go before we all sleep…
Highly recommended by our customers
I had joined Metur Super Services from travel mssbus.com and really I appericiate the services and arrangements done by mssbus travels I hope in future I will prefer to go with mssbus travels The cruise experience is ultimate
PRAVEEN
Highly recommended by our clients
This is my 3rd year of experience with Travel Metur Super Services and like every time, Travel mss exceeded their service quality. I would like to thank Service for customer handling quality, patience and manners in dealings. Must appreciate it's professionalism which instill trust in customers during negotiation period.
Karthikeyan
Highly recommended by our customers
Mss manager Dear sir, Once again my sincere thanks for your great and prompt service during our happy journey in your travels. As service part /timing part are so good.
Marimuthu Pandian